Summarizing the SharePoint Maven Post
The blog post by SharePoint Maven titled 'Stop asking for SharePoint not to look like SharePoint', discusses the author's professional experiences as a SharePoint consultant and his views on the critical aspect - branding SharePoint. He debates particularly why clients wanting a SharePoint to 'not look like SharePoint' is not a logical requirement.
A key point from his article is about the concern of majorly altering SharePoint's identity. This notion has been emphasized earlier in his blog written in 2016. He believes there are distinctive reasons why extreme branding does not offer substantial benefits in the long run.
The blogger praises "Modern SharePoint", stating that it has evolved greatly from its earlier versions and now includes various site types and templates, differences in navigation, logos, and theme options. He illustrated this with the examples that showcase its improved aesthetics and functionality. For more information on SharePoint Online, click here.
The author conveys that most who wish for a uniquely appearing SharePoint might not have an updated understanding of how the 'modern' SharePoint is like and are possibly basing their opinions on previous experiences.
He further touches upon several SharePoint branding options available to satisfy any custom needs. Despite these options, he insists it's more beneficial to not substantially diverge from the original SharePoint design due to the effects it can have such as escalated costs and elongated timelines for implementation.
The author outlines other factors like the influence of developments like the introduction of Teams in 2017 and mobile applications and how users interact with SharePoint. Importance is weighed in possibly having unique themes overlooked by users who primarily use SharePoint for documents and thus wouldn't frequent the SharePoint site as much.
The author then comments on the constant changes observed in SharePoint Online and how customizations could conflict with new features or updates periodically introduced. He also mentions the impact seen on various applications within Microsoft 365 which also do not allow considerable branding or customizations.
General View on the Topic
It's crucial to understand that while SharePoint offers flexibility, it operates best when its core design is respected. The desire for extensive branding comes often from a lack of understanding of modern SharePoint's capabilities. To reap the best functionality, it is advisable to work with SharePoint's in-built design and features, rather than attempting complete transformations.
Read the full article Stop asking for SharePoint not to look like SharePoint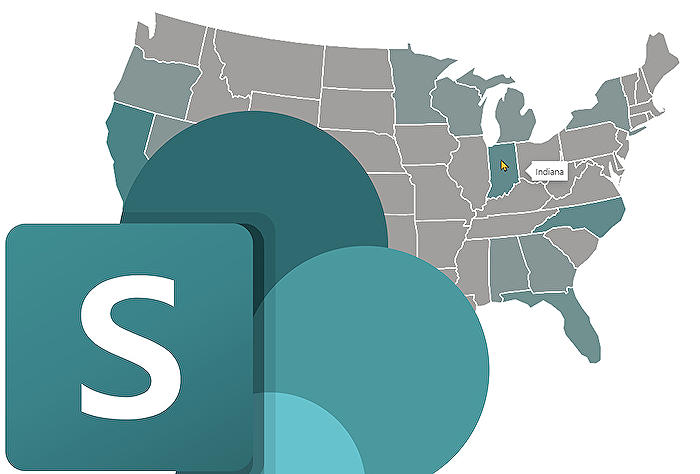 Learn about Stop asking for SharePoint not to look like SharePoint
Bespoke branding for Microsoft's SharePoint is a common request, but it may not always be the wisest choice. While it's understandable that businesses are looking for a unique end user experience, this blog post seeks to explain why SharePoint's default design offers a number of benefits and why common requests to change it are misguided.
When SharePoint classic was initially released, it certainly didn't resemble the modernized version we can access today. Since then, there has been significant evolution with the introduction of numerous applications within Microsoft 365, which has transformed SharePoint into a more visually appealing product. Equipped with new site types, inbuilt site templates, and customization options, SharePoint now provides aesthetic flexibility out of the box - prompting the question, why overhaul something already beautiful?
The introduction of Team Site and Communication Site, along with various site templates, facilitate simpler and more effective way of customizing SharePoint sites according to your preferences - change navigation, headers, logos or apply themes.
Users who resist the default SharePoint design are often unfamiliar with its modern aspects, having based their views on previous experiences with the classic version. Organizing a demo to showcase the visual and functional improvements of modern SharePoint can be an effective way to overturn these misconceptions.
Branding SharePoint requires a significant investment in terms of both time and money, two valuable resources for any business. It isn't just about purchasing additional features or bringing onboard developers and designers - you'll also need to factor in longer implementation timelines to ensure there's no conflict with other features or customizations.
SharePoint's architecture has also shifted from hierarchical to flat, implying that applications of custom themes to one site won't propagate to others. Maintenance of a cohesive look across SharePoint sites becomes harder. Additionally, once custom changes are made, they would require specific expertise to understand and manage these changes that adds extra cost to your budget.
The introduction of Microsoft Teams and other tools within the suite have changed the way users collaborate. Teams doesn't allow for custom branding, thus what you do with your SharePoint site might become irrelevant if users are mainly interacting with SharePoint through the Teams interface.
Another point to consider is that users may access sites via the SharePoint mobile application, which are not capable of rendering custom developments made on the desktop version.
With SharePoint online, the lack of control over frequent updates and changes is evident. Any customizations may come into conflict with new features or updates that Microsoft may roll out, leading to unexpected problems. Furthermore, SharePoint is just one of many applications within the Microsoft 365 suite, most of which don't allow branding or customizations. With all these points in mind, it seems wise to rethink the need for SharePoint to "not look like SharePoint".
In conclusion, while bespoke branding may initially seem appealing, the modern SharePoint design provides extensive customization options with a user-friendly interface. Coupled with the cost and resources required for bespoke branding, the strategic focus should perhaps be on utilizing SharePoint to improve business processes rather than major aesthetic overhauls.
More links on about Stop asking for SharePoint not to look like SharePoint
Feb 27, 2023 — This article explains why it is OK for SharePoint to look like SharePoint. Several arguments and images to prove the point are also ...
Jan 10, 2023 — 2.Open the browser where you accessed SharePoint online resource, go to delete all cache and cookies. 3.Reboot Mac, then check if the pop up ...
Mar 3, 2023 — Stop asking for SharePoint not to look like SharePoint is a phrase that has been used by Microsoft and other tech companies to encourage ...
Keywords
SharePoint customization, SharePoint design, SharePoint UI, SharePoint layout, SharePoint interface, SharePoint experience, SharePoint appearance, SharePoint aesthetics, SharePoint customization advice, SharePoint look and feel.