Exploring Enhanced Accessibility with the OneLake File Explorer
The Microsoft creator has introduced a new version, v1.0.10.0, of their advanced file explorer, OneLake, with a focus on improving your experience of working with online workspaces and items. This tool provides a fluid platform for integrating your local browsing with the online Fabric portal.
You will appreciate the seamless shift while navigating through your OneLake data via the Windows File Explorer to its online access in the Fabric portal. This version comes in handy, especially when uploading data onto the Fabric Notebook for analysis. After data upload, all it takes is a simple click...
... to launch the specific lakehouse online and kick-start the Fabric Notepad analysis. Navigate to the lakehouse, right-click on it, select OneLake and then choose > View item online. More information about OneDrive features available here.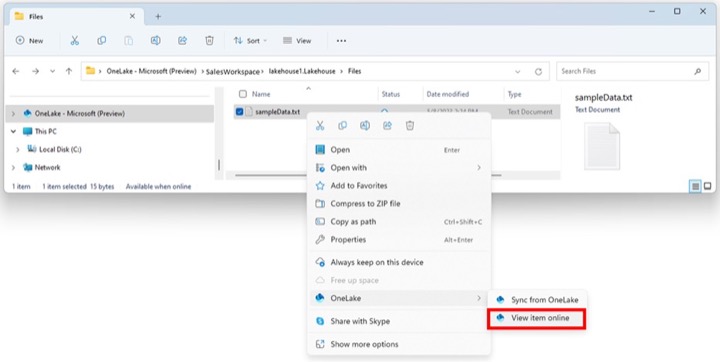 Simultaneously, working with workspace management or altering access settings has been simplified. It only requires a right-click on the workspace, followed by the selection of OneLake > View workspace online.
An interesting feature of v1.0.10.0 is the accessible client-side logs directory that offers detailed insights about specific operations and errors. If you faced a circular arrows issue (indicating pending sync status) post file upload, the detailed logs could provide valuable information. For instance, you may come across a log, OperationNotAllowedOnThePath, indicating that write access to a Warehouse item is only via T-SQL.
These logs can be accessed by making a right-click on the OneLake icon located in the Windows notification area (taskbar's extreme right), followed by the selection of Diagnostic Operations > Open logs directory, which opens a new window with your logs directory.
Expanding the Functionality of File Exploring
The upgraded OneLake file explorer does not only streamline access but also powers functionalities beyond basic explorations. This tool advances the user interaction with the Fabric data, and the journey doesn't just stop at seamless file browsing.
Aiming to maximize productivity and usability, the new OneLake explorer offers advanced features like detailed logs, direct online analysis, instant workspace access, and much more.
The module takes the user experience a notch up, transforming the perception of file explorations. Exciting elements like accessible logs directories bring you one step closer to detailed functions and operations performance.
Microsoft aims at incorporating sophistication in simplicity with OneLake, to ensure explorers can explore beyond the local, into an advanced world of online workspaces and items.
Moreover, the Microsoft explorer advocates for a future that blends the ease of local browsing with the infinite possibilities of the online Fabric portal - a community one click away from your local system, thanks to OneLake and advanced exploratory possibilities.
Read the full article OneLake file explorer: easy access to open workspaces and items online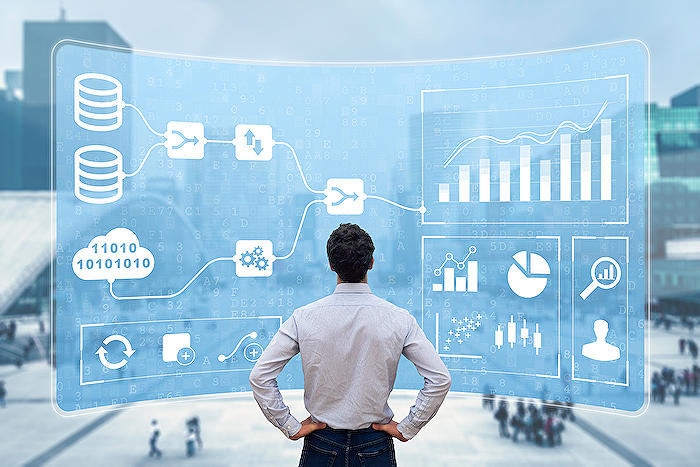 Learn about OneLake file explorer: easy access to open workspaces and items online
The OneLake file explorer offers an intuitive and smooth interaction between your local files and the online Fabric portal. With the recent update, version v1.0.10.0, you can efficiently navigate from your local operating system to the Fabric platform in the cloud. It essentially implies that you are not bound by the limitations of your local system anymore, and you can offload your storage and computational needs to the versatile Fabric portal.
One common use-case could be uploading data via the OneLake file explorer for in-depth analysis on a Fabric notebook. Post-upload, easy access to the online item is possible by right-clicking and choosing the 'View item online' option. This feature greatly simplifies navigating to an online platform for further analyses with Fabric notebooks, saving time and improving efficiency.
Moreover, if you wish to manage permissions or access settings information for your workspaces, the option 'View workspace online' is readily available on right-click. This seamless transition capability between your local desktop experience and the online workspace is a feature that boosts productivity and is highly praised by users.
Convenient Access
Comprehensive online functions
Ease of overlooking online workspaces
The latest version also enhances ease of access to client-side logs. Being able to understand operations and errors quickly is fundamentally important for an efficient workflow, and v1.0.10.0 provides just that. For instance, if you have uploaded a file to a Warehouse item, and are puzzled by 'sync pending status' indicated by circular arrows, the detailed logs would provide insights. Understanding causes such as the 'OperationNotAllowedOnThePath' error, informing users of Warehouse restrictions, adds to the user-friendly design.
Accessing the logs is made simple with a right-click on the OneLake icon in the notification area. Choosing 'Diagnostic Operations' followed by 'Open logs directory' will lead you directly to your logs in a new window. This ease of access to insightful data simplifies troubleshooting and decision-making processes.
Finally, the recent updates to the OneLake file explorer provide several opportunities for its users to discover and learn. For a comprehensive understanding, users are encouraged to consult official documentation provided by Microsoft. The doc provides an in-depth breakdown of how to effectively use this tool to harness the power of the Fabric data.
In conclusion, the new features in the OneLake file explorer are designed to enhance user-friendliness and promote a seamless workflow. Starting from managing local files, uploading data for online analysis to tackling errors using client-side logs, this tool provides a unified platform to meet your Fabric data needs.
Keywords
OneLake file explorer, open workspaces, access workspaces online, easy online file access, online item access, file explorer online, OneLake workspaces, manage workspaces OneLake, OneLake online explorer, easy access file explorer