Our summary of Kym Dupuis' post about the PowerPlatform Licensing simplification is as follows:
Dupuis states that in the latest endeavor to simplify PowerPlatform's Licensing protocols, the focus is on the "capacity based" licenses and "add-ons" of the Lowcode Platform. This is an essential step in the path of simplifying PowerPlatform Licensing.
The Power Platform, as Dupuis concisely mentions, is a combined entity of SaaS and PaaS. While the SaaS user license is widely used in specific services like Office365 and Dynamics365, the capacity model is imperative for large-scale operations and communal resources like AI and Storage.
The capacity model provides flexibility to IT and Business decision-makers in managing their investment and capacity expansion as business model adoption grows in the organizations.
Moving on to a chart that Kym Dupuis mentions, it is the abstract of products with varied capabilities and business models. Despite the discrepancies, Dupuis simplifies it for ease of understanding. However, the key takeaways are that PowerApps' per App plan is beneficial for organizations with low adoption rates, especially in business areas with high employee turnover.
Furthermore, the PowerAutomate per Flow is fitting for departmental flows, where the process does not affect the Daily Platform Requests Capacity.
Additional features include the UnattendedRPA add-on, enhancing flow capability by running bots locally or in VMs, optimizing VM utilization. This addition is especially seen as advantageous in managing bot utilization and performance. Also, PowerVirtualAgents act as a straightforward tool for creating Q&A and transactional chatbots.
A General View on Licensing Simplification
In general, the simplification of licensing is a crucial approach in any technical field. For large-scale services or platforms such as PowerPlatform, understanding and managing licenses can be quite complex. Therefore, turning towards a capacity-based model is a strategic move that gives IT, businesses, and employees more flexibility. Furthermore, through this approach, organizations can better match their needs with the licensing plan, thereby allowing for optimized usage and investment. It also encourages better control and understanding of shared resources like AI and Storage in an organization. It is indeed an advantageous venture for both platform providers and business decision-makers.
Read the full article Next in our PowerPlatform Licensing simplification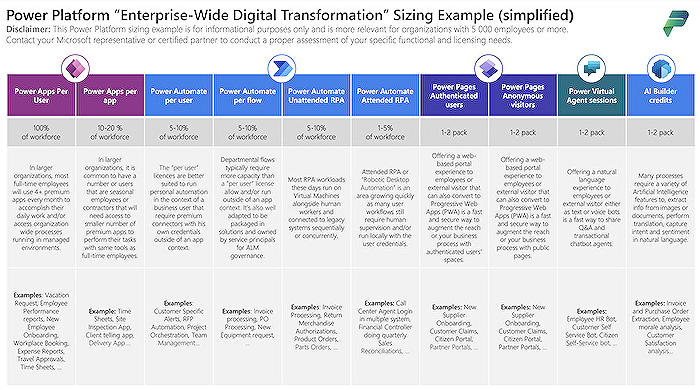 Learn about Next in our PowerPlatform Licensing simplification
Microsoft continues its simplification of the PowerPlatform Licensing process, as explained in the latest blog post by Kym Dupuis, Technical Lead for LowCode and HyperAutomation. This particular article focuses on the various "capacity based" licenses and "add-ons" of the Lowcode platform.
Most are familiar with assigning licenses on a per-user basis in a Software-as-a-Service (SaaS) model, like we see in Office365 and Dynamics365. However, for some organizations, a capacity based model can bring more flexibility, especially for larger initiatives or when sharing resources such as AI and Storage. The Azure Cloud, a Platform-as-a-Service (PaaS) model, is an example of such a model.
This capacity-based model, also, provides IT and business decision makers greater flexibility for managing their initial platform investment while enabling them to add capacity as needed. In other cases, it allows for a complete shift in the business model as adoption grows within the organization. A detailed guide on how to leverage the various authorizing models and maximise your ROI is set for release next week.
Moving on to the PowerApps per App plan, it becomes a viable option for organizations that have yet to fully adopt the platform and where there is high employee turnover or seasonality like in retail or manufacturing sectors. The capacity is allocated per environment and doesn't required IT administrators to manage individual licenses. Once a user opens the app, they only consume 1 capacity which after 30 days, gets returned to the environment for the next user.
PowerAutomate per Flow tends to be a good fit for departmental flows where the process is identical for all users and when assigning per user licenses becomes either prohibitive or it adds to management complexity. Scenarios such as expense reports, employee onboarding and vacation requests are just a few examples. Many flows can be set to run on this model, which can save money and virtually eliminate any risk of throttling.
Further improvements have been introduced with the UnattendedRPA add-on which extends the bot capability by running them in local or virtual machines. This tends to be the norm for many RPA scenarios currently, and allows better management of bot utilization and performance. This comes with the advantage of new hosting options that also optimize VM utilization.
Lastly, PowerVirtualAgents is a tool designed to simplify the building of Q&A and transactional chatbots by leveraging power automate cloud flows. Stay tuned for details on the other licenses to be covered this Friday.
You can learn more by following Kym Dupuis' ongoing blog series on the subject. Further resources can be explored in the 'Explore Topics' section of the post.
More links on about Next in our PowerPlatform Licensing simplification
Sep 29, 2023 — Learn FAQs for licensing Power Apps, Power Automate, Power Pages, Dataverse, Dataverse for Teams, and AI Builder.
Feb 7, 2023 — We tackle the various "capacity based" licenses and "add-ons" of our Lowcode Platform.
Aug 2, 2023 — Premium license name changes & new license types in 2023 and how they compare to the earlier Power Platform licensing options from ...
Keywords
PowerPlatform Licensing, Licensing Simplification, Next PowerPlatform, Simplify Licensing, Microsoft PowerPlatform, PowerPlatform Update, Latest PowerPlatform, PowerPlatform Changes, Simplified Licensing, PowerPlatform License Simplification