The Anticipated Power Apps Experience
The awaited modernized flavor of model-driven Power Apps has finally been released for public preview. The blog post by Jukka Niiranen [MVP] sheds light on several exciting elements of the new enhancements. Additionally, there's an update on novel controls intended for the spring canvas app.
Power Apps, like many cloud services, has been significantly growing. With the surge in demand for advanced, user-friendly, and low-code business applications, Power Apps has greatly improved its experiences. Customer feedback led to the necessity for a more efficient and user-friendly design, and Microsoft has risen to the challenge. Coming up in the spring, these updated options will also be accessible to the canvas app maker.
The new model-driven app experience is anchored on Microsoft's Fluent design system, which is prevalent across various Microsoft applications. This familiar look simplifies usability. The preliminary review will be introduced with updates targeting the most heavily utilized model app experiences.
The new Power Apps experience will integrate with Teams for an efficient and secure collaboration. This optimized sharing experience is built on Dataverse security roles, handing control to organizations to dictate who has sharing and access permissions. Future updates will be launched to further enhance Teams' experience.
An essential addition is the inline editing supported by the updated grid experience. Users can now make quick, easy changes directly from the grid view, contributing to improved efficiency. The new look is currently available to existing or model-driven applications, with more organizations set to be included after the next build deployment.
For more, click here for detailed information on Power Apps. Future updates will include new theming and dark mode support to both model and Canvas apps, with end-users expected to opt in as well.
Diving Deeper into Power Apps
Power Apps is a suite that is part of the Microsoft Power Platform. This platform is an instrumental tool that empowers businesses to innovate with low-code or no-code solutions. Power Apps specifically focuses on transforming ideas into organizational applications, simplifying complex data integration, workflows, and service automation.
Power Apps is recognized as a low-code development platform that enables everyone to build professional-grade applications. This makes the digital age more accessible to everyone, including those who are not traditionally tech-savvy. By incorporating Power Apps, organizations have the chance to revolutionize their processes and improve their overall functionality and efficiency.
Power Apps allow users to build data-centric applications while interacting with a Visual Basic-like language.
It enables teams to integrate AI capabilities without needing a data analysis background.
Power Apps also facilitates seamless integration with Microsoft applications which enhances the usability and adoption of the app.
It is equipped with a responsive layout that enables apps to perform equally well on mobile as on the web.
Power Apps caters to an endless world of possibilities, propelling an organization's digital transformation to new heights.
Read the full article The new look for model driven Power Apps is available now in preview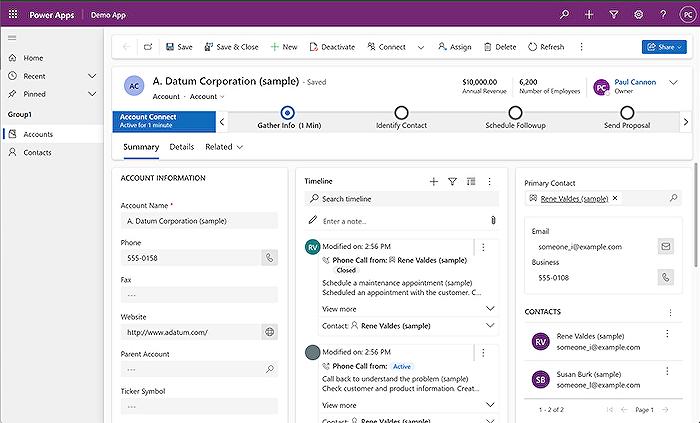 Learn about The new look for model driven Power Apps is available now in preview
Microsoft has announced a public preview for an updated variant of its widely-utilized model driven applications within Power Apps. This article aims to delve into these enhancements, how they will improve your workflow, and what's in store for the future. If you're looking to get more acquainted with our topic, online courses like "Power Apps Essential Training" or "Advanced Business Applications with Power Apps" on LinkedIn Learning would be beneficial.
The expansion of Power Apps is a direct consequence of its increasing usage and its efforts to cater to the mushrooming demands in the low code space. The app assistive experiences have grown profound and sophisticated, sparking conversations about app design and efficiency. Responding to this, Microsoft has launched an updated design, teeming with refreshed controls.
The spring will witness these changes incorporated into the canvas app maker experience. Whether you're a beginner or a veteran at Microsoft Power Apps, the news about the incoming transformation incites a sense of curiosity.
Improved look and feel
Updated controls and sharing experience
Enhanced grid and editing functionality
Fuelled by Microsoft's Fluent design system, the new design syncs core concepts like sharing across various MS products, including Word, PowerPoint, Teams, and Azure. Therefore, bridging this learning gap for users. The initial launch has updated heavily utilized model app experiences, covering a large percentage of scenarios.
With app makers now having the option to employ the new look on any existing or new model-driven applications, the "Try the new look and feel (preview)" app setting and accompanying documentation may be of interest. This new design, which is aimed at making apps more efficient and user-friendly, also roots for enhanced page definitions and features built on Dataverse security roles.
Turning our attention to collaboration, it is now more streamlined thanks to an integrated sharing experience. Moreover, the updates work synchronously with the Teams application to provide in-depth previews of apps and business records shared via links.
Through enhanced grids, you can make faster changes directly from your grid view, facilitating efficient data handling. Enabled for one entity, this feature will undoubtedly save you several clicks. Inline editing, although requiring an additional configuration step, hugely contributes to this beneficial change.
That said, an activation process is required to sample the new look, which can be easily activated through the app settings. You can get more information on this from our upcoming documentation on model-driven application settings.
Soon, we will also introduce dark mode support to both the model and canvas operations. As these changes are profoundly influenced by user feedback, they aim to improve the apps' overall look and functionality.
Going forward, any questions or feedback regarding the new model-driven app experience will be highly appreciated. This step will play a crucial role in eliminating any ambiguities or misunderstandings about these functionalities.
Finally, the updated look can be easily validated and tested thanks to the takeover of UX controls, thus simplifying the learning curve. It should be noted that experience with field controls and grid capabilities has been enhanced, which might present a slight difference from the previous version.
To encapsulate, the arrival of the new look will not only enhance application design but also introduce a myriad of improvements that will continue to benefit app makers and ordinary users alike. We hope you are as excited as we are about these upcoming changes. Stay tuned!
More links on about The new look for model driven Power Apps is available now in preview
Feb 2, 2023 — Today, we're announcing a public preview of the new model driven app experience and providing an update on new controls coming to canvas ...
The mobile app and mail app don't support the modern, refreshed look and aren't part of the preview or general availability. With the new look, Power Apps is ...
Aug 25, 2023 — GIve your model-driven app a fresh, new look by trying out the latest layouts, themes and colors. Users can opt-in by selecting the Try the new ...
Keywords
Power Apps Preview, Model Driven Power Apps, New Look Power Apps, Power Apps Update, Power Apps Model Driven, Power Apps Improvement, Avail Power Apps Preview, Model Driven Apps Update, Preview Model Driven Power Apps, Power Apps New Look