Understanding Modern Header Control in Power Applications
The YouTube video under review, presented by Reza Dorrani [MVP], provides a beginner's guide to the contemporary Header Control in Power Applications. In the power apps tutorial, the focus is on explaining and demonstrating the use of a novel Header Control accessible for Canvas Power Applications.
The new control feature aims to simplify the process of crafting a header experience for your Canvas applications. Its design is modern, easily adjusts to contemporary theming, and even supports responsive design. All these features ensure that the control is dynamic and adjusts to the layout of the parent container or application.
In the tutorial, Dorrani delves into a systematic discussion about the features and benefits of using this modern Header Control. The subjects mapped out for discussion in the Power Apps beginners' tutorial are:
Header Control Overview: This provides a comprehensive understanding of the modern Header Control, going in-depth to discuss its foundational properties.
Modern Theme: The presenter demonstrates how the control responds and adjusts its presentation to various theme colors.
Responsive Header Control: There is exploration into how the Header Control directly adapts to the size of the parent container or application.
Key Features: The video shows how the Header Control can support a logo, a page title, and the user's profile picture, while providing a unique style customization for your header design.
The video further explicates on key properties such as ThemeStyle (header color variant based on theme colors), Base Palette Color (color palette applied to the control), Logo, Title and visibility settings for these properties. However, the tutorial also brings to light some unsupported capabilities such as customization of color and app navigation.
More Info Here
General Perspective on Modern Header Control in Power Apps
The introduction and adoption of modern controls in app development platforms like Power Apps has significantly revolutionized user interface design. These tools facilitate an enhanced user experience by implementing contemporary design aesthetics, better responsiveness, and superior adaptability to the parent application or container size.
Specifically, the use of modern header control tools allows developers to deliver a more satisfactory and seamless interaction experience for end users. By allowing for easier customization of key features such as logos and titles, these tools offer developers the ability to create a more personalized and dynamic design.
However, as advanced and beneficial as these tools are, they aren't without drawbacks. As highlighted in the discussion, some features such as color customization and app navigation are not presently supported. This presents a challenge and limitation that users will need to navigate. Nonetheless, we can expect these challenges to be resolved as advancements in these technologies continue.
Read the full article Modern HEADER Control in Power Apps: A Beginner's Guide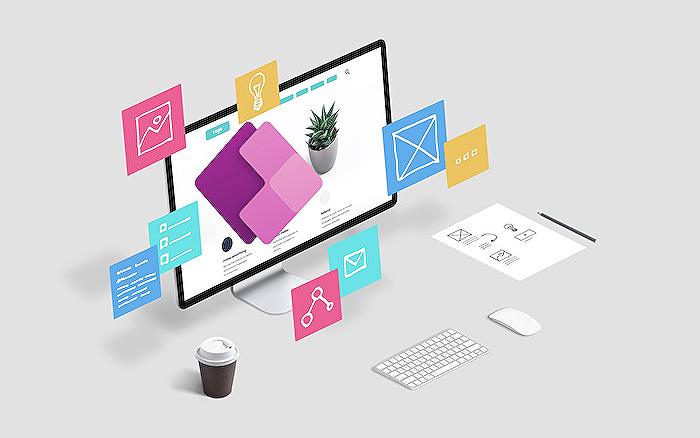 Learn about Modern HEADER Control in Power Apps: A Beginner's Guide
Are you trying to navigate the latest improvements in Power Apps? This text serves as a beginner's guide to the new header control in this popular Microsoft technology. It offers a comprehensive overview, explaining how the new functionality can streamline your development processes, dynamically adjust to the size of the parent container or application, and provide enhanced customization options.
What does the update bring? This text unveils how the latest Power Apps release has led to the addition of a header control including customization options, interactive features, and responsive design support. It also showcases how it can adjust its appearance based on modern theme colors, delivering a more aesthetically pleasing and user-friendly experience.
Key features of the new functionality include support for a logo, a tailored page title, and user's profile picture – all offering additional unique style options to further customize the look of the header. While walking you through these and other features, the text also dives into the depths of theme sensitivity, container adaptability, and overall usability.
Header Control Overview: Get a detailed understanding of the modern header control and its key properties.
Modern Theme: Gain insight into how the launch adapts to themes and alters its appearance to fit theme color schemes.
Responsive Header Control: Learn how the technology smartly customizes to the size of the parent container or application, promising a seamless user interaction.
Key Features: Explore functionalities like support for brand appearance, page headlines, and user profile images. Discover how to uniquely adjust your app header appearance using diverse styling selections.
The guiding time stamp listed in the text offers an excellent reference for when each topic is covered. And now comes a question you might be contemplating: is this functionality a component or not? The text brings it to light, along with instructive steps to integrate the new header control into an existing application.
Situated on the cutting-edge of technology, Microsoft frequently upgrades and enhances Power Apps – this text dives into the modern header control, explaining key properties, responsive dimensions and the latest color palettes. It also clarifies how to add new functions such as clickable buttons and icons, offering ultimate usefulness and interactivity.
Last but not least, this text concludes with a mention of some restrictions such as customizing colors and app navigation, finessing the power of Power Apps for even the most novel users. While the header doesn't automatically replicate across app screens, which requires adding it manually to each screen, efforts are being taken to support these functions.
This article ultimately provides an in-depth analysis into Microsoft's new modern header control within Power Apps. By reading it, you can confidently navigate the latest updates and improvements within the platform, and utilise these effectively in your apps.
More links on about Modern HEADER Control in Power Apps: A Beginner's Guide
5 days ago — The Header control is a fundamental control that lets you design a user interface for a common app with ease. With minimal configuration ...
Keywords
Modern HEADER Control, Power Apps Beginner's Guide, Power Apps HEADER Control, Understanding HEADER Control, HEADER Control in Power Apps, Modern Power Apps Guide, Beginner's HEADER Control, Power Apps for Beginners, Guide to HEADER Control, Power Apps HEADER Guide.