The blog post written by Dennis Goedegebuure (Expiscornovus) [MVP] delves into how users, specifically SharePoint administrators, can identify and list web parts on an intranet page. In particular, it details the process using Microsoft's SharePoint Online within a Power Automate flow.
Most importantly, the blog names some specific entries (SiteId, SitePageId) required for effectively configuring the SharePoint setting. Although not explicitly explained, the author hints at the importance and role these identifiers play while managing web parts. He also suggests that the process might require a betaGraph API, Power Automate, or possibly other resources.
In the latter part of the blog, the author takes a closer turn into SharePoint, explaining its usefulness as a tool that allows the expansion of simple intranet pages into complex and highly customizable websites. This versatility is brought about by the flexibility and adaptability of SharePoint Web Parts.
Web Parts are described as segmental components or building blocks that can be arranged and used in various ways to create a unique page layout and content. They offer adjustable scripts and can be obtained from different sources and added to various points on a web page. This functionality enriches users' experience while also enhancing the practicality of intranet pages.
An interesting classification of web parts has been delineated in the blog, showing their versatility across different operational areas like business data, list and libraries, media and content, content rollup, and People Web Parts. All these components serve specific purposes and greatly enrich the SharePoint Sites' functionality.
The author also shares insights into what a 'Custom Web Part' is. Essentially a tool for user customization, a SharePoint custom web part epitomizes user personalization. Even though patently convoluted, creating a custom web part injects an aura of uniqueness to the site, enhancing its appeal and usability. The benefits accruing from its usage are comprehensive and encourage users to augment the scope of their website.
The post draws to a close with the author reminding us of the revolutionary potential the power-packed SharePoint Custom Web Parts promise. From creating custom attributes, regulating access, enabling connectivity, to networking with object replicas, a SharePoint Custom Web Part is your key to an expanded and truly personal SharePoint Site.
General Understanding of SharePoint Online features
For more information, SharePoint Online, a powerful platform owned by Microsoft, allows users to build intranet websites and automate business processes. With several features like document library, calendar, announcement board, list view, content query, image viewer, and business lists, users can create any business display they require.
People Web Parts, one feature, gives an efficient way to display user information, fostering a sense of community within organizations. One of the most fascinating features of SharePoint is the ability to create and modify custom web parts, which allows for endless possibilities of site design, layout, and operation.
Powerful personalization tools like custom web parts give users a robust and adaptable intranet portal that is not just visually appealing, but also enhances office productivity and organization. Thus, SharePoint Online has something to offer for all business needs.
For a more in-depth look into SharePoint Online, please visit here.
Read the full article List webparts on page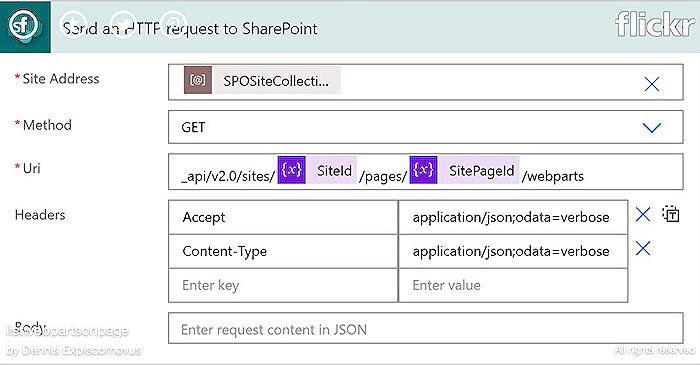 Learn about List webparts on page
In order to understand this topic more comprehensively, a grasp on how SharePoint Online, Power Automate, and other Microsoft tools interact is required. To gather this knowledge, you may undertake training courses from Microsoft itself as they offer numerous courses related to SharePoint, Power Automate, and the Graph API.
Essentially, the text discusses listing web parts on a page, a common task performed by SharePoint Online platform users. Web parts are modular components forming the foundational blocks for SharePoint Online pages, providing customizability and interactive functions. By using Power Automate, lists of these web parts can easily be retrieved, simplified, or modified depending on the needs of the organization.
Partaking in Microsoft's specific courses related to SharePoint and Power Automate would provide a deep understanding of the topics. Microsoft offers courses such as 'Getting Started with Microsoft SharePoint', 'Microsoft Power Automate: Fundamentals' and 'Using the Graph API with SharePoint Online', which are pivotal for understanding this topic in depth.
The categorization of web parts as elucidated in this topic can be perceived as a method for better organization. List and Libraries, Content Rollout, Media and Content, Business Data, and People are the categories which the diverse web parts can be sorted into. Each of these categories allows for further customization and offers unique features enhancing the functionality of SharePoint Online.
A custom web part, as discussed, highlights how SharePoint Online allows users to design personalized web parts that cater to their specific requirements. The custom SharePoint Web Part is pivotal for individual users to optimize their SharePoint Online experience by providing personalized solutions. Custom web parts can be designed to display custom attributes, regulate access to content, enable connectivity, network with other SharePoint objects, provide a basis for building new web parts, and many more.
Keywords
webparts, SharePoint, page, list, website, SEO, organize, display, features, customize