In this blog post, the author, Lewis Baybutt, focuses on building an internal Power Platform community within organizations. He gives a few helpful tips and resources to make this endeavor easier.
Baybutt first addresses the importance of governance when implementing this Microsoft suite. He advocates a careful approach to ensure users don't find interaction challenging, thus discouraging their involvement or adoption of the technology.
Rather than locking everything down or providing minimal access, Baybutt promotes looking at each aspect with an open mind, considering user capabilities and potential issues before making any restrictions.
Moreover, when it comes to governance, it is crucial not to obstruct everything with stringent rules. Doing so can pose challenges in building a successful internal community within an organization.
Baybutt then discusses handling encounters of governed features. In case governance-style policies are implemented, he suggests making sure users understand what they can and can't do with tools they might have heard about online or from the wider community. Providing guidance and sharing the governance strategy in an easy-to-understand format helps avoid user confusion.
The CoE Starter Kit, a comprehensive tool for building a Centre of Excellence and an internal community of Microsoft suite makers, is recommended by the author. It identifies all makers in an organization and integrates them into a team where tips and resources are shared.
This tool targets individuals who are already interested, easing the process of delivering content and empowering existing members to achieve greater outcomes.
If an organization aims to reach a larger audience, the author suggests integrating Microsoft suite Hub into the existing modern employee communications platform or Intranet.
To successfully drive this community, Baybutt also highlights the importance of identifying champions who are incredibly enthusiastic about the technology. These champions can lead community initiatives such as internal community calls, tips, and Teams posts or SharePoint News blogs.
Building Your Own Power Platform Community
A thriving internal Power Platform community can turn a good corporation into a great one. It motivates employees to explore their potential, heightens engagement, and tightens bonds within the workspace. Making the endeavor successful, however, requires careful steering. Good governance should serve as a guide, not a hurdle. The CoE Starter Kit can expedite the process, but identifying enthusiastic champions will give it a substantial push. Most importantly, every community thrives on communication; hence integrating the Power Platform into existing communication platforms is key.
Read the full article Building your internal Power Platform community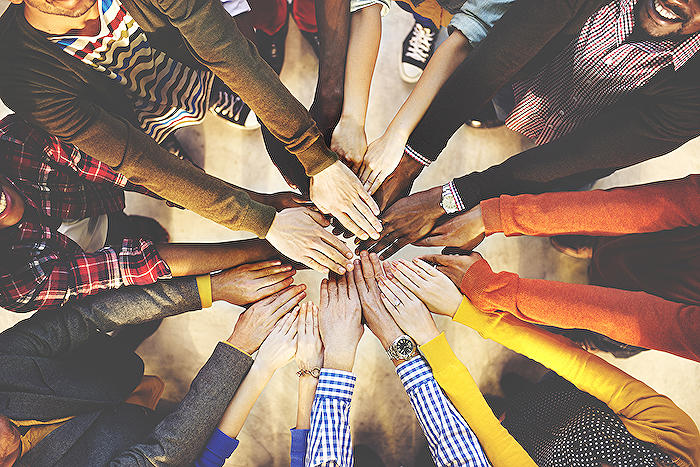 Learn about Building your internal Power Platform community
In our post, we take a different route from technological subjects and delve into how to establish your organization's internal Power Platform community! This piece will provide you with some helpful hints and resources to make this easier for you.
Stumbling on... Governance
The foremost thing to discuss here is the aspect of governance. With regard to the implementation of Power Platform and fostering its adoption the right way within an organization, we must employ a cautious tactic. This strategic approach should ensure that users do not confront obstacles as soon as they endeavor to engage with what we're presenting, preventing them from participating or accepting the technology.
In terms of governance, it's critical not only to consider strict approaches of 'locking down everything' or only permitting individuals to utilize the smallest piece of the pie. Instead, considering each component with an 'I want my users to be able to do this' mindset is advisable. Consequently, if there are valid reasons why users might face issues, we can consider whether providing that extent of capabilities is a good idea. The key tip here is to avoid becoming overzealous with governance and drop roadblocks everywhere, as this will likely hinder the development of a successful internal group in your organization.
Managing Experiences with Governed Features
Assume there's a policy style that you've applied to a particular aspect. It may be necessary! But, it's vital not to leave users in confusion as to why they can't perform a certain action. Informing our makers and users about what they can and can't do with tools they come across online or within the broader community is essential. Document your governance plan and disseminate it to your users and makers in a format that's easy to comprehend!
CoE Starter Kit
If you're contemplating establishing a Centre of Excellence and an internal community, then the CoE starter kit might be an excellent starting point for your organization.
The CoE Starter kit comes equipped with a feature that identifies all the members within your organization beginning to engage with Power Platform or those who frequently use it, grouping them into a team where you can impart resources and tips to strengthen your organization's creators!
This could be an ideal resource if you're uncertain about how to communicate content on Power Platform to people within your organization. The template does half the work by bringing together interested individuals, leaving you with the responsibility of delivering content and enabling existing creators to accomplish great things!
Reaching a broader audience
If you wish to engage a wider audience than those who've previously interacted with the 'Power Apps' or 'Power Automate', consider incorporating a Power Platform Hub into your employee communications platform or Intranet!
Identifying Champions to Propel Your Community
Identifying champions who display immense enthusiasm for your technology space — which in this case is Power Platform — is another strategy to consider for creating a successful community in your organization. Let these champions lead community campaigns in your establishment such as internal community calls or SharePoint News blogs.
Having individuals who are genuinely excited about the technology means you're more likely to make a significant impact. Despite these tips, remember to share your thoughts and remarks below on how your community building venture is progressing. We're very interested to hear about your journey!
More links on about Building your internal Power Platform community
Apr 10, 2023 — Set up your own SharePoint Hub or Teams site to share success stories, upcoming events, rules of engagement and guidelines with your maker ...
Oct 24, 2022 — A central and searchable Power Platform communication site to share rules of engagement and processes with your maker community can be a ...
Keywords
Internal Power Platform, build community, developing Power Platform, community growth, Power Platform improvement, Power Platform engagement, Power Platform interaction, fostering Power Platform, Power Platform forum, boosting Power Platform community.