Microsoft 365 offers a feature called Simplified Sharing, targeted at enhancing sharing and collaboration on files and documents. The feature integrates with Word, Excel, PowerPoint, Teams, Outlook, OneDrive, SharePoint, and numerous other applications. File sharing received significant attention and tweaks, resulting from user feedback. When the "Share" button is clicked, a Share Dialog box engages, an experience utilized over eight hundred million times monthly.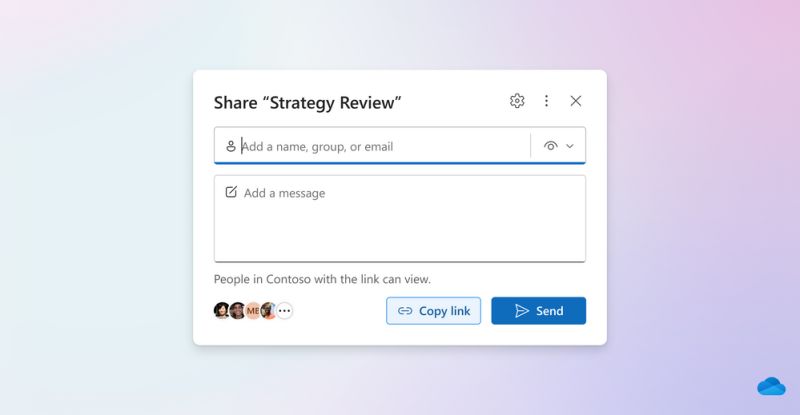 Feature Deep Dive: Simplified Sharing Across Microsoft 365
In an effort to enhance collaboration across Microsoft 365 suite, Microsoft has refined its file sharing feature, known as Simplified Sharing. This feature, triggered by the "Share" button, is utilized over 800 million times each month across Microsoft 365 applications. The new feature aims to simplify the sharing and collaboration process and is now available across more than fifty Microsoft 365 applications on all platforms including Web, Desktop, and Mobile.
Simple and fast sharing across Microsoft 365
Email a link: Users can share a file with coworkers by emailing a link. Suggestions are provided based on frequent collaborators. An optional brief message can be included. Once "Send" is clicked, OneDrive crafts an email and sends it to the chosen recipients.
Copy a link: Users can create and copy a link with a single click and paste it into a Microsoft Teams chat, document, or email to provide access to the file. More granular control can be achieved by clicking the gear icon to edit permissions or block downloads.
External Sharing
The new experience allows sharing links easily with people external to your organization, while confirming and respecting admin settings and external policies, thereby making external sharing easier and faster.
Granular control when sharing files
Microsoft is improving the visibility and control over who has access to shared files or folders and their permissions.
Manage Access: Users can see and manage who has access to the shared file. The Manage Access dialog shows a list of people and groups with access to the file or folder, along with their respective permissions. It also allows for granting additional access, stopping sharing, or setting controls for how recipients access the shared files and folders.
Links: All sharing links created for the file or folder and their associated access can be viewed and managed by clicking on the "Links" tab.
Sharing sensitive files
To ensure better control over access and distribution of sensitive information, Sensitivity Labels in Microsoft 365 allow users to classify files based on their level of confidentiality. These labels have been integrated into the Share dialog and Manage Access dialog, allowing an at-a-glance understanding of file sensitivity before sharing.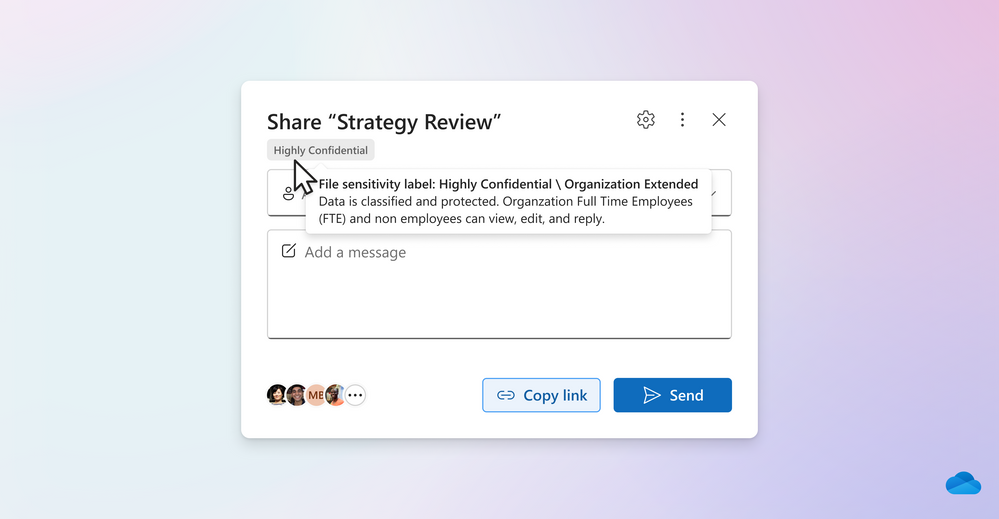 Feedback from users is encouraged to further shape and improve the experience. Detailed information can be found in the following support articles:
About the author: Ihcene Cheriet is a Senior Product Manager on the OneDrive team, focusing on improving the sharing and collaboration experience across the M365 ecosystem.
Zooming into Simplified Sharing
The Simplified Sharing feature introduced in Microsoft 365 revolutionizes productivity and workflow. Collaboration across different platforms has been made easier. With a single click, users can initiate the sharing process via the Share Dialog box. The fact that it is used over 800 million times monthly speaks volumes about its efficacy.
The applicability on more than fifty different platforms highlights its expansive utility. Furthermore, it maintains efficiency regardless of the user's device - Web, Desktop, or Mobile. This universal access encourages even more seamless collaboration and sharing.
Read the full article Feature Deep Dive: Simplified Sharing Across Microsoft 365
Learn about Feature Deep Dive: Simplified Sharing Across Microsoft 365
Sharing and collaboration are key elements of the Microsoft 365 suite of applications, allowing users to work together on documents and files. Microsoft has recently taken steps to improve the experience for users when they click the "Share" button by introducing the Simplified Sharing experience.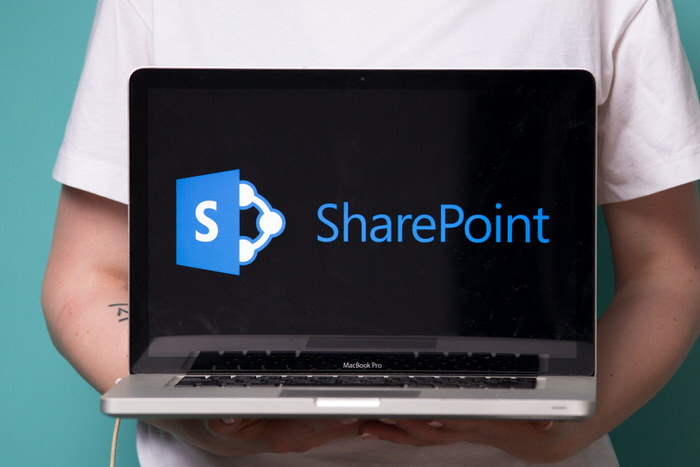 This experience is available across more than 50 Microsoft 365 applications, across web, desktop, and mobile platforms. This improvement has been driven by user feedback and has been used over 800 million times each month across Microsoft 365 applications. This simplified sharing experience allows users to quickly and easily share files and documents with coworkers and partners to maximize productivity and efficiency at work.
More links on about Feature Deep Dive: Simplified Sharing Across Microsoft 365
May 30, 2023 — This optimized file sharing solution is primarily available in OneDrive but is designed to function universally across Microsoft 365.
Today, we are excited to share the latest OneDrive innovations to help you get to files quickly ⚡️and share them easily across Microsoft 365.
The ability to share to Outlook is still available for users who enabled it in the top menu. This message is associated with Microsoft 365 Roadmap ID 124933.
Dive deep into getting your mind around a building block having key features and functionalities and each building block having a set of relationships to ...
OpenIntro Statistics concludes with chapters on simple regression (Chapter 8) ... instructors can guide them through a deep dive into the cor() command for ...
Sync Up is your one-stop shop for all things OneDrive. Join hosts, Stephen Rice and Arvind Mishra, as they shed light on how OneDrive connects you to all of ...
Keywords
'image-id/84550i7FDB54AA2B64CE4F/image-size/large?v=1.0&px=999] Microsoft 365 Sharing, Collaboration, File Sharing, Share Dialog Box, Simplified Sharing Experience, Microsoft 365 Applications, Share Button, Hero_ShareDialog, Web, Desktop, Mobile.