Encountered by consultants when using the most recent version of the Microsoft Edge browser. The browser has a feature where the user can jump between profiles while entering different sites. However, this becomes inconvenient when managing too many client profiles. Fortunately, Edge provides a setting that allows users to turn this off.
Despite solving the issue temporarily, it seems to persist for some admin pages. A link to Microsoft Edge provides a solution to this problem. However, it continues presenting obstacles, especially for external consultants or people using multiple Entra ID accounts for administrative purposes. It can cause confusion by automatically switching profiles. This feature is being described as a UX nightmare.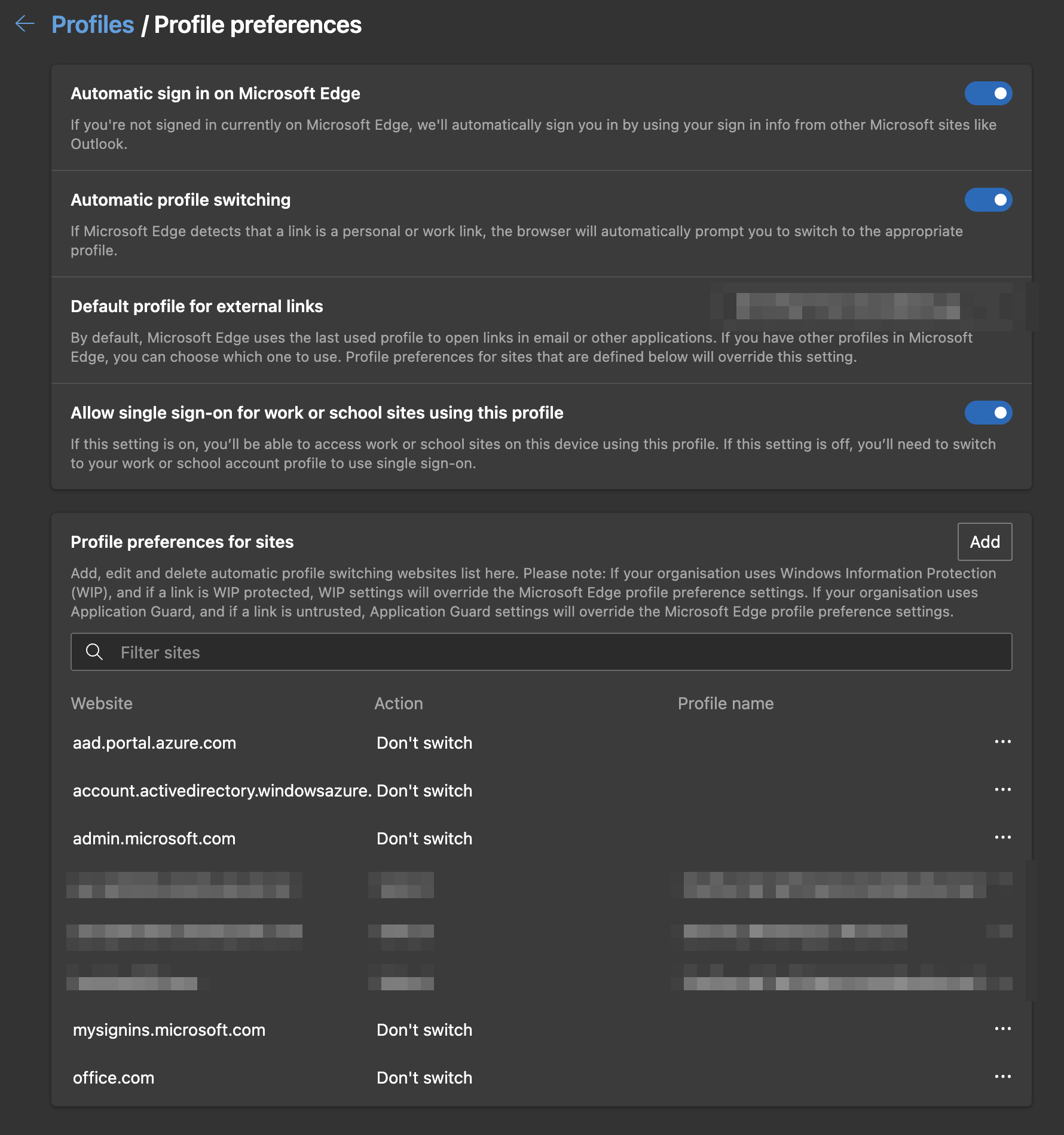 The problem intensifies when working with multiple Edge profiles, a highlighted example is of 54, where the switches and settings under "profile preferences" are inconsistent. Answering to this, tips have been read from knowledgeable individuals about the settings that may affect profile switching, and the Edge for Business FAQ page has been consulted for better understanding. Still, it has not been enough to handle the situation and there is still hesitation.
Edge's promised profile isolation did not work as expected. There might be concerns about the advantages of using a Microsoft browser for Microsoft cloud services, if the integration features cannot be relied upon. It also expresses concern about potential disruptions from the future Edge features.
More on Profile Switching Issue in Microsoft Edge
Profile switching can create an unexpected hurdle for Edge users, especially those managing multiple client profiles. The automation of profile switching can lead to disoriented navigation, causing a significant barrier to a user-friendly experience. The text emphasizes the need to understand and fix this issue for an efficient browsing experience by Microsoft Edge users. Furthermore, the trust erosion in the cloud services due to this issue is an important concern that should be addressed promptly.
edge://settings/profiles/multiProfileSettings
How do I switch between the Microsoft Edge for Business browser window and the Microsoft Edge browser window? 
With the Edge stable version 116 release, URLs entered into the personal browser window that are for work-related sites, such as Microsoft 365 apps and services and sites requiring work login, will automatically open in the work browser window.
Do I need to enable automatic switching?
With this release, switching from the personal browser window to the work browser window will be on by default with the option to turn off by the user. Switching from the work browser window to the personal browser window will be off by default with the option to turn on by the user. This will be enabled by default in a future release. To turn on/off automatic switching, visit Edge settings and toggle on/off "Automatic profile switching".
Are the work and personal browser window connected?
The work browser window (Microsoft Edge for Business) and personal browser window (Microsoft Edge) will have their own separate caches and storage locations, so information stays separate. This feature does not create any link between the user's Microsoft Entra ID account and their MSA account, and the organization settings related to linking work and personal accounts are unaffected. There are no functional changes to the Entra ID profile.
How does a user customize the work and personal URL list?
To designate sites to open automatically in the work and personal browser windows, go to edge://settings/profiles/multiProfileSettings and select "Choose preferred browser for sites" to turn off or select a preferred profile for the applicable site.
Is there a group policy to customize the work and personal URL list?
Not at this time.  
Is there a group policy to turn on/off automatic switching?
At this time, only users will be able to turn switching between work and personal browser windows on and off.´
Learn about Edge profiles switching?
The main topic of this text focuses on the challenges of switching between multiple profiles in the most recent version of Microsoft Edge, released in September 2023. The writer, clearly frustrated with their user experience, struggles with Edge's profile-switching, it being seemingly random and inconsistent. With many customer profiles, the author finds it a problematic feature and suggests that there is a setting within Edge to turn this off, which has somewhat remedied their experience. The author also highlights the lack of trust in their control over this feature and overall distress with their user experience.
More links on about Edge profiles switching?
Apr 30, 2020 — Switching between profiles. You can switch between profiles any time by clicking on the desktop icon or window associated with a profile. You ...
Aug 4, 2022 — Enable Edge automatic profile switching · 1. Open Microsoft Edge. · 2. Click the three-dot menu in the upper right and then click Settings. edge ...
Feb 9, 2023 — On Edge Stable, the "Switch profile" prompt seems to have been postponed until you enter your password when authenticating yourself in your ...
Mar 10, 2020 — 1 Open Microsoft Edge. · 2 Click/tap on the Settings and more (Alt+F) 3 dots menu icon, and click/tap on Settings. · 3 Click/tap on Profiles on ...
Mar 10, 2020 — To Enable or Disable Automatic Profile Switching In Microsoft Edge, ; Select Settings from the menu.
May 20, 2020 — Edge will remember your selection and automatically switch to your specified profile when you revisit those URLs in the future. Edge's automatic ...
Mar 5, 2022 — Launch Edge browser · Click on the 3-dot icon and select Settings · Select Profiles and click on Profile preferences · At the bottom, for Profile ...
Jul 13, 2023 — I use two profiles on Microsoft Edge (Personal and Work). I have a list of URL's that I added into the Settings > Profiles > Profile ...
Jan 27, 2021 — Open any of the web apps installed using Microsoft Edge and you'll find the profile icon on the top-right corner in the title bar. Click on it.
Keywords
Microsoft expert consultant issues, Microsoft Edge profile switching, Edge multiple profiles problem, Trouble with Edge 2023 version, Microsoft Edge profile settings issue