Introduction to Microsoft's Innovative Product: Power Pages
Microsoft has introduced a new product, known as Power Pages, adding to the widely recognized Microsoft Power Platform. Power Pages, designed for both novice coders and professional web developers, enables the creation of business-centric websites efficiently and rapidly.More Info
Power Pages provides an enhanced replacement for Power Apps portals, previously utilized for designing and customizing user-friendly external portals. Power Pages offers a tech-friendly platform for the development of secure, modern, and data-driven websites.
As a distinct and standalone product offering, Power Pages revolutionizes portal capabilities, optimizing aesthetic features and customization with professional developer extensibility.
Integrated into the globally recognized Microsoft Power Platform, Power Pages streamlines business procedures, enabling effortless automation of workflows. It provides an all-encompassing, easy-to-use solution for diverse businesses.
Developing websites swiftly and securely
Power Pages incorporates several features facilitating rapid and confident website launches for businesses. The Design Studio function makes the designing, styling, configuring, and publishing of sites a breeze. The Templates Hub features comprehensive websites with demo data, simplifying the process of managing applications, schedules, etc.
Further, Microsoft's Dataverse, a highly secure and scalable low-code data platform, endorses the secure exchange and collection of business information. Additionally, Power Pages is supported by Microsoft Azure, offering advanced encryption and role-based access controls.
Visual Studio Code offers an advanced coding capability in Power Pages, enabling professional developers to efficiently interact with core business data and execute custom business logic.
Unleashing Unlimited Potential
Power Pages delivers an extraordinary capability to create low-code web development projects. It offers a diverse range of solutions, including community services, customer self-service options, FAQ sites, and partner support.
Power Pages has been globally recognized and widely adopted in various sectors, from sales to government services. Notable examples include King County's use of Power Pages to efficiently deliver essential services, and City of Kobe's usage for effectively directing citizens during the COVID-19 crisis.
Rockwell Automation, a leading provider of industrial automation, has effectively utilized Power Pages to automate manual selling processes, providing an unprecedented level of visibility and capabilities to sellers.
Exploring Power Pages
Power Pages aims to revolutionize the way data-centric websites are designed, customized, and launched. Secure, trusted, and offering a free trial, Power Pages democratizes the process of creating impactful web presences.Find out more
In conclusion, Power Pages is a revolutionary platform for creating effective data-driven websites. It simplifies, automates, and empowers, offering anyone, regardless of their technical background, the ability to create modern, secure websites.
Read the full article Microsoft Power Pages (Portals) for Beginners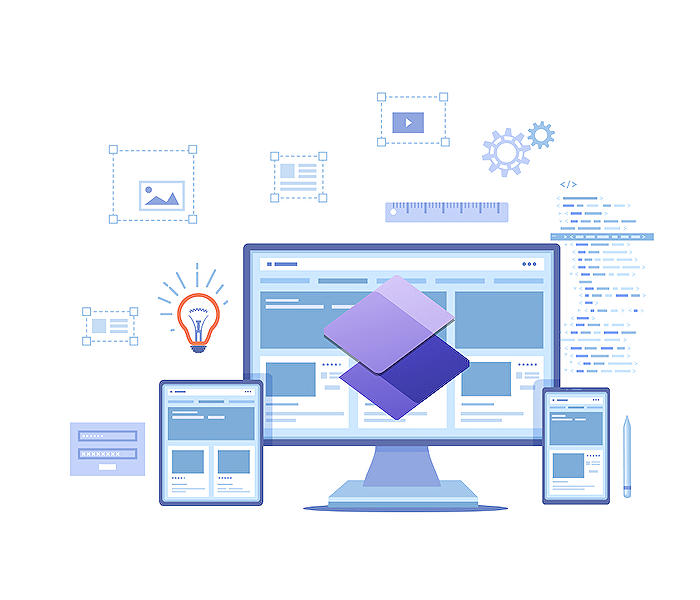 Learn about Microsoft Power Pages (Portals) for Beginners
The advent of Microsoft Power Pages, a newcomer to the Microsoft Power Platform accommodating low-code producers, shows how individuals and institutions are adopting technology. Power Pages, a solution that marries usability and advanced functionality, can facilitate the creation of versatile and modern websites.
Beginning as Power Apps portals, the platform provided users with sturdy web creation capabilities. Emerging now as a solitary product, Power Pages extends foundational services and delivers modern data-driven and secure websites to anyone, no matter their skill level.
Through this platform, professionals and beginners have a potent tool to generate business-related sites with a distinct low-code approach and other superior, customizable features that enrich your design experience.
A novel feature of this product is the ability to set up business websites promptly. It also offers an array of functions and capabilities that enable your design and implementation to be smooth. The Design Studio lets you style, configure, and publish updated business websites. You can start from zero or tap into pre-existing templates for text, video, and image design - among other needs.
Drawing from the resources in the Templates Hub and the Learn Hub, you can handle schedules, applications, and registrations better. As a bonus, there's access to tutorials and guides, which aid you on your journey to mastering how to build websites and work with underlying data and code components.
With data being a crucial part of any business today, securely collecting and sharing business data is possible through Microsoft Dataverse. This integrated feature is a leading edge, scalable low-code data platform that strengthens your hand in web development. Power Pages is driven by Microsoft Azure and benefits from the rich, role-based controls of Microsoft Azure Front Door and added security solutions like Microsoft Azure DDoS Protection.
Leveraging Visual Studio Code while using Power Pages lets you unleash advanced capabilities employing JavaScript, Liquid templates, APIs, and code components. This benefits professional developers who design their underlying business data and assert their custom business logic without exiting their favorite developer tools. Microsoft Power Platform's command line interface is an additional resource that facilitates the uploading and downloading of custom projects.
Many perceive low-code web development to be suitable for basic company profiling or other content showcasing projects. However, Power Pages supports intricate, professional, and scaled solutions. Community services such as self-service permitting and licensing, FAQ sites, customer self-service support services, and partner support all fall under the umbrella of Power Pages' capacities.
Already, Power Pages is servicing different industries globally owing to its roots in Power Apps portals. From sales to public administration, it is providing efficient services. Heralded for its wide range of solutions on the Power Platform, it is beyond doubt that Power Pages is already making quite an impact in the industry.
To start your own journey of designing, customizing, and launching websites on a secure platform like Power Pages, you can opt for their free trial. They offer a multitude of resources and support channels to get you started. The Microsoft Build sessions and blogs offer valuable insight and expertise you can use to tap into your new project.
In summary, Microsoft Power Pages provide a unique platform for businesses and individuals to grow, develop, and digitize their processes. With state-of-the-art features and enhanced security, everyone can now streamline and automate their workflow for a more efficient and effective business solution.
More links on about Microsoft Power Pages (Portals) for Beginners
This learning path introduces you to Power Pages that can be quickly provisioned to serve a variety of different audiences and workloads. We also cover ...
May 26, 2023 — We've created a series of tutorials and videos for you to learn to use Power Pages. ... Power Pages design studio and Power Apps portals Studio.
Keywords
Microsoft Power Pages, Portals for Beginners, Learn Power Pages, Microsoft Portals, Beginner's Guide Power Pages, Power Pages Tutorial, Master Microsoft Power Pages, Power Pages Introduction, Understanding Microsoft Portals, Basics of Power Pages.