Updates on Microsoft's Digital Collaboration Tools
Programs and tools from Microsoft are continuously evolving, enhancing the user experience and offering new opportunities for digital collaboration. Some underpublicized features are already available, whilst others are coming soon.
Among the recent updates, Microsoft's collaborative sketching space has seen noteworthy improvements. One includes the ability to lock objects, preventing accidental adjustments or deletions. This is particularly helpful in complex devising sessions.
Another new feature allows users to vote on notes in the virtual-board environment, large shifts in conducting brainstorming sessions. Users can also easily copy-paste images via clipboard, thus making visualization more efficient.
Sharing specific windows or applications on Windows 11 has never been easier. Users can avoid revealing their desktops unintentionally by sharing only relevant windows or applications. This aids in precision and saves users from potential embarrassment.
Furthermore, meetings can now be streamed directly to social media platforms such as YouTube, Facebook, LinkedIn, and Twitter. This implies that organizers can harness any platform supporting RTMP without having to use additional software further enhancing accessibility.
The Presenter Mode has a new tuning feature, enabling presenters to adjust the overlay of their video on top of the shared content. Presenters can also customize the size of their video image and its position compared to the content.
The Co-Organizer feature helps to distribute responsibilities, with a maximum of ten co-organizers allowed for a single meeting or webinar. They can manage admission, share content, spotlight attendees, amongst other tasks enhancing the efficiency of coordination efforts.
One best practice is to embed your videos in the PowerPoints you present via PowerPoint Live. The direct buffer on the attendees' devices means smoother video playbacks, providing a seamless viewing experience.
Interestingly, you can cast content from your desktop client to Microsoft Teams Rooms with Teams casting. It offers an ad-hoc broadcasting capability to users, including those not invited to the meeting.
Lastly, a feature to keep an eye on is the Speaker Coach for Teams that is expected to roll out soon. It aims to enhance presentation skills by giving private nudges, making public speaking more effective and engaging.
General Overview of Microsoft's Digital Collaboration Tools
Microsoft's range of programs and tools are designed to offer seamless collaborative experiences, whether it be within an organization or in personal spaces. With innovative features continuously rolling out, the realm of digital communication and collaboration is perpetually evolving. From lively brainstorming sessions on a shared board to smooth streaming of webinars on social platforms, Microsoft makes it all possible with astounding simplicity. Furthermore, the addition of Co-Organizers enhances coordination in meetings and webinars, preventing possible chaos. With advancements like the Presenter Mode, Speaker Coach, and PowerPoint Live, Microsoft provides well-rounded solutions for enhancing remote communication and collaboration.
Read the full article Whiteboard external sharing - Rolling Out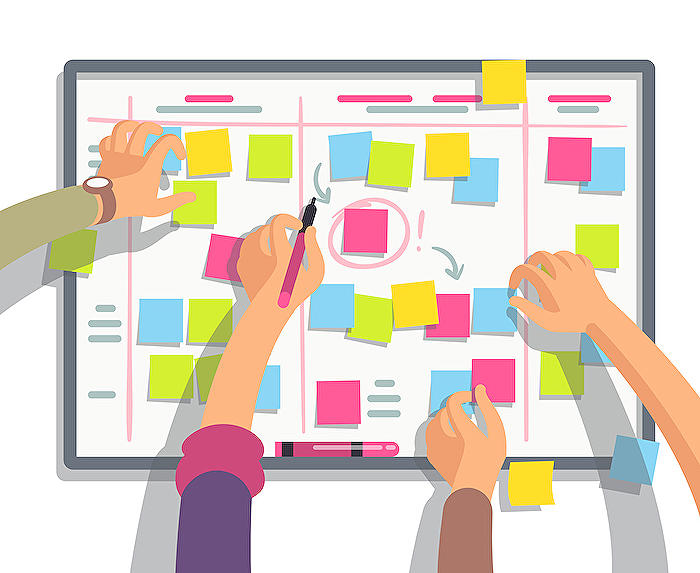 Learn about Whiteboard external sharing - Rolling Out
Through the course of this blog post, we delve into many features within the Microsoft Teams ecosystem. One of the main topics highlighted is the Whiteboard tool and its useful add-ons, including external sharing. Other notable points include sharing a specific window or app on Windows 11, streaming to social directly from Teams, and speaker coach availability.
Microsoft Teams' Whiteboard feature has seen numerous updates that profoundly boost its utility. The software now enables users to vote on notes during brainstorming sessions. It also now includes locking objects, meaning they can't be accidentally modified or deleted. Additionally, objects and images can now be copied and pasted via the clipboard. There is also mention of upcoming features like the ruler and the option to add photos to the board with Bing's search function.
The tool can be shared with external participants in a Teams meeting, making it easier for everyone to collaborate. Voting on notes is the only feature currently unavailable to external parties. Sharing specific windows or apps through Windows 11 is now more straightforward. During a Teams meeting, a window can be shared with the group using Windows 11 sharing. Information about streaming a meeting or webinar on social media platforms directly from Teams is also shared.
The Teams Administrator must enable LiveStreaming; it can be turned on in the global meeting policy.
The Custom Streaming application must be added to the Teams meeting for streaming.
The Streaming URL and key must be defined for the meeting.
The option to tune your presenter mode is handy when you want to overlay your video on top of content. You can select left or right positioning and even adjust the size of your video image via the preview screen. The co-organizer feature assists when multiple organizers are required for meetings or webinars. Up to 10 co-organizers can join the meeting and have admittance to numerous controls.
Alongside existing features, new ones slated for release have been shared. The speaker coach, scheduled for April 2022, will offer suggest and support to help users develop their presenting skills. Casting from the Teams desktop client to Microsoft Teams Rooms will allow users to wirelessly display content. Also, Teams Casting will enable users to cast content stored locally on their devices or via Office 365.
In conclusion, this blog post offers a comprehensive breakdown of the various features and tools available in Microsoft Teams, with particular focus on the Whiteboard feature. The post ensures readers are kept abreast of updates and upcoming offerings to optimize their Teams experience and enhance their productivity.
More links on about Whiteboard external sharing - Rolling Out
Feb 22, 2023 — ... share a whiteboard won't appear for external users) ... A guide for administrators to roll out and configure meetings, webinars, and live events ...
... Whiteboard, is being able collaborate and share ideas. This is even better when you can work outside your organisation. The feature is now rolling out…
Apr 20, 2020 — Any guests, external or anonymous users in a Teams meeting can view and collaborate on the whiteboard during the meeting. They will not have continued access to ...
Keywords
Whiteboard Sharing, External Sharing, Sharing Rollout, Whiteboard Strategies, Collaboration Tools, Shareable Whiteboard, Digital Whiteboard Sharing, Whiteboard Technology Update, Advanced Sharing Techniques, External Collaboration Whiteboard.