OneNote Windows Update Review
Microsoft is set to revamp OneNote, its note-taking application for the Windows platform. The update aims to usher in a UI that seamlessly integrates with other updated Windows applications and enhances the overall note-taking experience. [more info]
Notable graphical improvements include a refreshed ribbon, consistent sidebars, and an immersive full-screen mode. Aesthetic tweaks such as the Mica effect now make it possible to weave Windows theme and desktop wallpaper into the application window.
Functionality-wise, this app revamp introduces an 'unread indicator,' an optional simplified ribbon, and enhanced background updating. The latter enables the application to update its features even while your device is locked.
Focus on the content.
Intuitive note-capture with voice, ink, camera, and AI.
Improved organization of pages.
Share notes seamlessly.
This update also offers diversified work styles. Users can draw with ink, dictate thoughts using voice commands, use cameras for creative brainstorming, and soon, leverage new AI tools for unique working experiences.
The revamped draw tab now houses writing and drawing tools on par with those in Word, Excel, and PowerPoint. Features such as ink-to-shape conversion and a ruler for angled line drawing create a pleasing writing and drawing experience.
Also making a debut is the smart 'ink to text' tool that adjusts font size based on the size of the user's handwriting. Digital inking now feels more realistic, especially when using the Surface Slim Pen 2 with a Surface Laptop Studio or Surface Pro 8.
More updates, including an ink replay feature and ink quality enhancements, are anticipated to be rolled out as part of future updates. Pen undocking for a distraction-free writing experience is another feature users can expect to see.
Microsoft has successfully combined voice and ink technologies to revolutionize note-taking in their Office apps. The dictation tool is an essential part that allows rapid note-taking, capable of even driving commands to add, format, edit, or organize text.
Moreover, Microsoft's AI-backed voice technology which works flawlessly with dictation and other voice commands, ensures seamless experiences across Office applications such as Word and Outlook.
Other advancements include an improved camera integration that allows direct insertion of snapped pictures into notes, an incredibly useful feature for quick whiteboard capture or recipe snapping.
For page sorting, Microsoft has introduced algorithms for alphabetical, date created, date modified sorting and even retains manual sort orders while still allowing other sort options.
In terms of note-sharing, the new sharing interface offers real-time collaboration and gives clear sharing options to the user. Whether one shares an entire notebook or single pages, collaboration has been made more intuitive.
Updates of this caliber have already been received by audiences on the Current Channel since May 2022, while Office Insider Program members have been able to test the camera feature and updated sharing experience. More features and further updates are yet to roll out to all users.
In a nutshell, this update solidifies the OneNote app on Windows as a single, unified platform for note-taking. Though other platforms such as macOS, iOS, Web, and Android continue receiving regular updates, these changes particularly focus on the Windows application.
To conclusively touch on Office updates, the feature improvements highlighted in this article do not apply to OneNote as a part of any Long Term Servicing Channel (LTSC) releases. Microsoft 365 users can access this update as part of the standard package. Windows 11 users will have it pre-installed as part of Office, and others can download it from the OneNote official download site.
Read the full article How to Update and Refresh the OneNote App on Windows: A Guide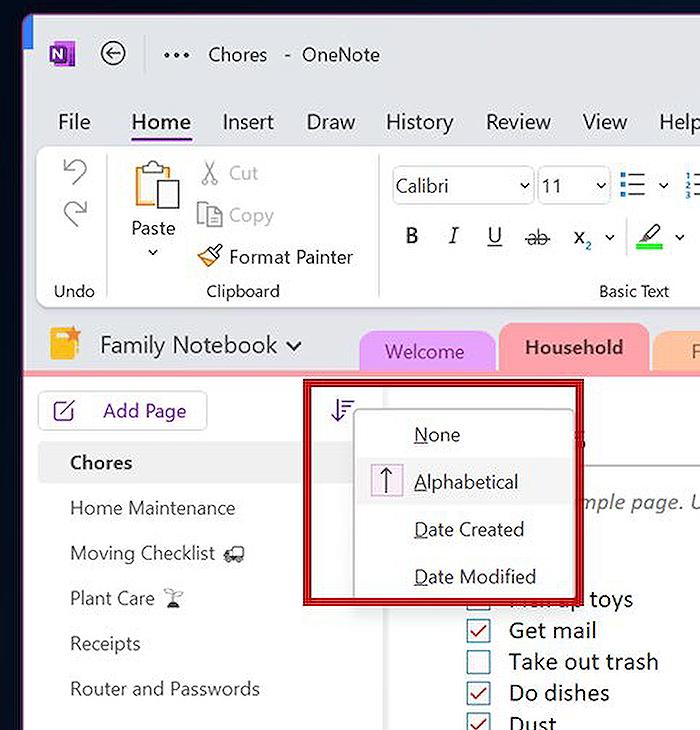 Learn about How to Update and Refresh the OneNote App on Windows: A Guide
Microsoft's OneNote, a popular note-taking app, constantly evolves to provide users a familiar yet advanced experience. Recently, a new refresh has been planned, which is certain to revolutionize your workflow. It provides support for a variety of entry modes like voice and ink, offers an advanced sharing mechanism, and introduces versatile organization methods.
Visual Update:
The visual refresh extends to navigation panes, fullscreen mode, as well as the page list, section tabs, and notebook dropdown. Subtle personalization with the Mica effect provides users the ability to incorporate Windows 11 theme and desktop wallpaper into the app window.
Emphasis is laid on finesse, enhanced through visually pleasing corners and smoothly executed animations.
Pages with unread changes are also easily identifiable now, thanks to the new unread indicator.
The optional simplified ribbon creates more screen real estate for your content, retaining fast accessibility to commonly used features. This cleverly strikes a balance between using the full height classic ribbon and completely hiding it.
In the next few months, expectancy of OneNote periodically receiving the latest features without disturbing you during your focus hours has been established. This happens courtesy of the "update under lock" capability which downloads and installs updates while your device is locked.
Work Your Way:
OneNote empowers users with the freedom to work in their preferred way. Whether you want to draw with ink, capture thoughts with dictation, use cameras for greater imagination, or adopt AI capabilities for smarter work, the app has you covered.
The updated draw tab provides writing and drawing tools in the note-taking app, consistent with Office Suite.
Added features like "ink to shape" and "ink to text" improve the quality of notes, while "Ruler" allows for accurate lines and angles.
Engaging with digital ink is more intuitive than ever, replicating a pen-on-paper experience especially while using Surface Slim Pen 2 on Surface Laptop Studio or Surface Pro 8.
In the near future, transcription and ink will be integrated together, making it comparatively straightforward to take note and concentrate on relevant content.
Improved Voice Commands:
Featuring also are AI-backed voice commands in note-taking software that offers more power to your voice. It supports adding, formatting, editing, and organizing your text: all narrated instructions.
The auto-punctuation feature in dictation settings is another addition that uses AI to ensure free flow of your thoughts without the worry of punctuation.
Camera and AI Integration:
With this application already utilizing text in pictures captured, it now makes inserting pictures easier through Camera app integration.
Page Sorting:
Apart from the already available manual sorting, OneNote now supports alphabetical sorting and sorting by date created or modified.
Share Experience:
_posting software_ provides numerous ways to share and collaborate real-time. Users have the choice to share an entire notebook, copy link to a notebook, or even share just a single page of the notebook.
Several advanced features have been rolled out to existing users while some still remain to be officially released out to the audience.
Access to OneNote:
The latest version of OneNote is accessible across different platforms and devices, including but not limited to Windows, macOS, iOS, Web, and Android. To simplify things, Microsoft is unifying the two existing versions in Windows: OneNote for Windows 10 and the Office OneNote.
The _note-taking app_ on Windows continues to receive new features while it incorporates key features from OneNote for Windows 10.
OneNote app can be downloaded as a free standalone version or as a part of Office on Windows 11 through Microsoft 365.
More links on about How to Update and Refresh the OneNote App on Windows: A Guide
May 24, 2022 — Building upon the ribbon refresh last year, the new visual refresh extends to the navigation panes and full screen mode. The page list, section ...
May 28, 2022 — How to Update and Refresh the OneNote App on Windows: A Guide · Revitalize your Windows Experience with Expert Microsoft OneNote App Refresh.
Keywords
Update OneNote App, Refresh OneNote Windows, OneNote App Guide, Windows OneNote Update, Updating OneNote Windows, Refreshing OneNote App, Guide Update OneNote, OneNote Windows Refresh, How to Update OneNote, OneNote Update Guide.