Microsoft recently launched a new feature, the Microsoft 365 Copilot. This progressive tool merges large language models (LLMs) with the data of the user's organization. By integrating with prevalent Microsoft 365 Apps such as Word, Excel, PowerPoint, Outlook, Teams, etc., it creates an efficient and effective workflow. Microsoft 365 Copilot, being an intelligent assistant in real-time, aids users in boosting their creativity, productivity, and skills.
A new platform, #MicrosoftCopilot readiness hub, has been introduced. Users are advised to visit https://adoption.microsoft.com/copilot and bookmark the page for regular updates on more technical and #adoption guidance for these features. The content, based on user feedback, is aggregated from other portals into this single user-friendly platform.
Merges Large Language Models (LLMs) with user data
Works with common Microsoft 365 Apps
Offers real-time intelligent assistance
Boosts creativity, productivity, and user skills
New platform #MicrosoftCopilot readiness hub established
Users advised to bookmark the page for regular updates
Aggregates content from other portals into one experience
Detailing Microsoft Copilot
The Microsoft 365 Copilot is Microsoft's newest innovation and a measure to improve productivity. By joining users' data with Large Language Models, it exhibits an immense potential in assisting users during their workflow and enhancing their overall output. The common Microsoft 365 apps that we frequently use are now powered to provide an even more fruitful and beneficial experience with the integration of this new feature, creating a single unified experience for the users.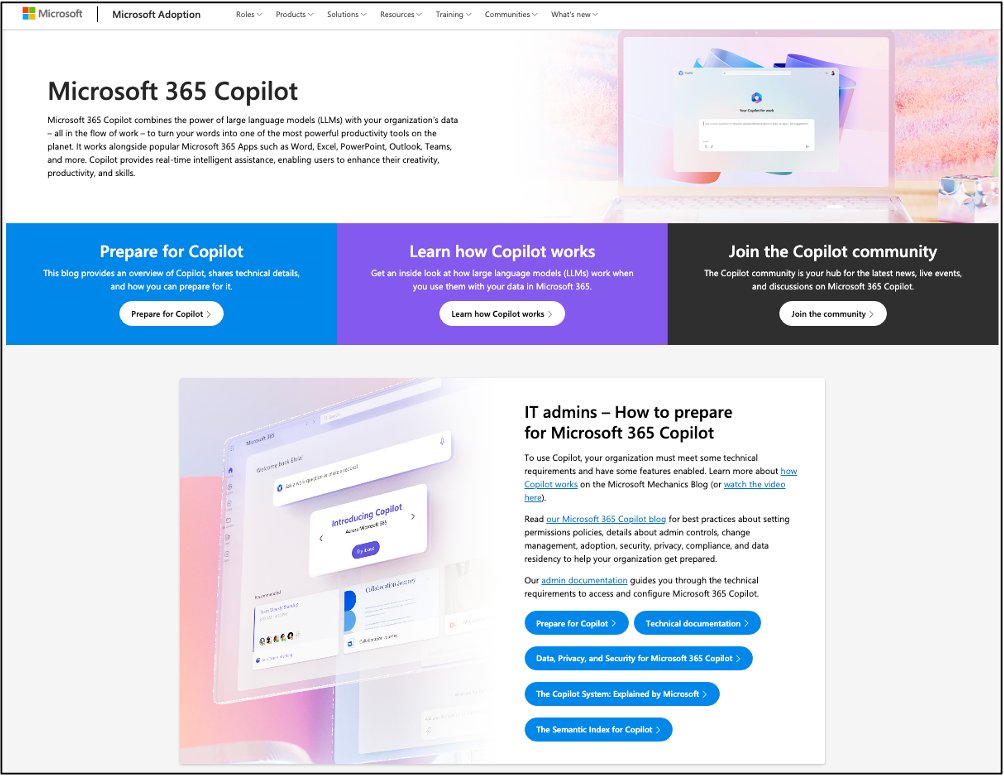 Read the full article NEW: Microsoft Copilot readiness hub
How to prepare for Microsoft 365 Copilot?
Microsoft 365 Copilot is a powerful productivity tool that combines large language models (LLMs) with your organization's data, seamlessly integrated into your workflow. In this blog, we will provide an overview of Copilot, discuss technical details, and offer guidance on how to prepare for its implementation. We will cover various aspects such as permissions policies, admin controls, change management, adoption, security, privacy, compliance, and data residency to ensure your organization is ready for Copilot.
Learn more about Microsoft 365 Copilot
To understand Copilot better, we recommend exploring the following resources:
General technical requirements
To utilize Copilot, your organization must meet certain technical requirements and have specific features enabled. Copilot users need either a Microsoft 365 E3 or E5 license and an Azure Active Directory account, granting them access to Microsoft 365 apps and services compatible with Copilot, such as Word, Excel, PowerPoint, OneDrive, Outlook, and Loop. Once available, your users should be on the Current Channel or the Monthly Enterprise Channel for Microsoft 365 apps to access Copilot. Further details about channels can be found in this article.
In addition to these requirements, we recommend aligning your network with Microsoft 365 network connectivity principles. This ensures optimal Copilot performance by minimizing latency and improving network quality of service (QoS) for critical network flows. WebSockets must be unblocked from user endpoints to enable certain Copilot experiences. To leverage cross-app intelligence experiences in Teams, you'll need to enable plugins using the Teams admin center.
Permissions and content management best practices
Microsoft 365 Copilot leverages existing permissions and policies to deliver relevant information while upholding data security and privacy in the enterprise. It is crucial to establish good content management practices within your organization. Content oversharing and data governance challenges can be addressed by adopting effective strategies. To detect and prevent oversharing in content management and security across SharePoint, OneDrive, and Teams, we recommend watching this video and reading this article.
Security, privacy, and data residency
Microsoft 365 Copilot adheres to foundational principles built on Microsoft's comprehensive approach to security, compliance, and privacy. It is designed to protect tenant, group, and individual data, while ensuring responsible AI usage. Copilot experiences utilize organizational content within your Microsoft 365 tenant, including calendars, emails, chats, documents, meetings, contacts, and more, all within the Microsoft 365 compliance boundary. Copilot does not use customer data or user prompts to train its foundation.
Copilot experiences do not rely on OpenAI's publicly available services. All processing is performed using Azure OpenAI services. Copilot LLM calls are routed to the closest datacenters in the regions, with the ability to utilize other regions during periods of high utilization. No customer data is written outside the user's home region. Starting in July, the Early Access Program for Microsoft 365 Copilot aligns with the EU Data Boundary (EUDB) commitments.
The richness of the Copilot experience depends on the data sources indexed by Microsoft 365. Tenants with abundant data in Exchange, OneDrive, SharePoint, and Teams will receive the best results from Copilot. With access to comprehensive organizational data, Copilot can suggest more relevant and personalized content based on the user's work context and preferences. Semantic Index provides further insights into this capability.
Microsoft does not claim ownership of content created by Copilot. Determinations regarding copyright protection may vary by jurisdiction, and Microsoft does not make specific judgments in this regard.
Copilot license management
Admins can manage Microsoft 365 Copilot licenses through the Microsoft 365 admin center, under Billing > Licenses. From there, licenses can be assigned to individual users or groups through Azure Active Directory. PowerShell can also be used to assign Microsoft 365 licenses to user accounts. Additional admin controls will become available as Microsoft learns more about Copilot use cases and customer scenarios.
Driving Copilot adoption
We are committed to supporting organizations in adopting Microsoft products and services. We encourage you to follow established best practices for driving service usage and adoption. The Microsoft 365 admin center will provide additional tools, including an onboarding guide, to help you and your users get started with Copilot once it becomes available.
Currently, users can start learning about Copilot and AI fundamentals at the Microsoft AI help & learning site. This resource offers information on how Copilot can transform their work experience, along with Microsoft's ethical principles and guidelines for developing AI solutions. Enabling in-product prompts is also recommended to highlight Copilot features and guide users on their usage.
Staying up to date with changes and announcements
To stay informed about the latest Copilot features, changes, and announcements, utilize the Message center in the Microsoft 365 admin center, found under Health > Message center. Consider enabling your adoption specialists to access Copilot-related Message center posts by assigning them the Message center reader role. Specify up to two email addresses to receive email notifications for major update posts and a weekly digest of service updates. The Copilot service will soon be included as a preference option in the Message center Preferences.
The Microsoft 365 roadmap provides insights into upcoming features and can be used to anticipate future developments. Roadmap items are linked within their respective Message center posts. Copilot product filter selections will be added to the roadmap, allowing convenient viewing of all Copilot features. For now, searching for the term "Copilot" will display all related features.
For additional information, explore Microsoft 365 Copilot's data, privacy, and security aspects. Stay up to date with the latest news on the Microsoft 365 Copilot blog and join the Microsoft 365 Copilot community. Additionally, join the Microsoft 365 Copilot Ask Microsoft Anything (AMA) session on Thursday, July 13, 2023, at 9:00 AM Pacific to get your questions answered.
Footnotes:
[1] For small and medium business (SMB) customers, Microsoft 365 Business Standard or Business Premium will be eligible base licenses.
Learn about NEW: Microsoft Copilot readiness hub
Microsoft Copilot is a powerful tool that combines the power of large language models (LLMs) with organizational data to turn words into an effective productivity tool. It works with popular Microsoft 365 Apps such as Word, Excel, PowerPoint, Outlook, Teams, and more, providing real-time intelligent assistance to help users create, be productive, and grow their skills. To learn more about Microsoft Copilot, visit the Microsoft Copilot readiness hub at https://adoption.microsoft.com/copilot. This hub is regularly updated with technical and adoption guidance for the features of Microsoft Copilot. It also aggregates content from other portals into a single experience, based on user feedback.
More links on about NEW: Microsoft Copilot readiness hub
Jun 23, 2023 — Get information ready for search, put key prerequisites in place, and assign licenses to prepare for the next transformation in how we work ...
Jun 13, 2023 — Unlock key demos by visiting the Partner Hub AI page today and discover the Copilot capabilities available for Dynamics 365 and Power Platform.
Jun 10, 2023 — Well, it's a sequence of courses that guides you step-by-step to learn new skills and discover the power of Microsoft products. You can find all ...
Jun 20, 2023 — In this webinar, you'll learn more about Microsoft 365 Copilot and ... the M365 Partner Readiness Hub within 7-10 business days post-event.
Get AI-Ready with M365 & BizApps Copilot When: June 15, 2023, 1:00 – 3:00 PM (GMT+03:00) Where: Online Please join us for this virtual Partner Session for.
Jun 21, 2023 — The focus of this AMA will be on technical readiness for Copilot. Responses to questions about licensing, pricing, and availability will be ...
We are thrilled to announce the launch of the Microsoft 365 Copilot community-a hub where admins and users gather to explore the possibilities and harness ...
2 days ago — If you're an IT admin looking to get your organization ready for Microsoft 365 Copilot, we have just the event for you!
May 11, 2023 — Find Microsoft 365 and Security training all in one location! Training courses are available from fundamentals to certification to help you ...
Get updates about Microsoft Security Copilot, as well as helpful tips and guides to make sure you get the most out of your experience.
Keywords
Microsoft Office, Microsoft Teams, Microsoft 365, Microsoft Adoption, Microsoft Copilot