What's New in Teams | May 2023
The May 2023 edition of "What's New in Teams" highlights several exciting announcements from Microsoft Build 2023. Microsoft Teams continues to evolve as the premier platform for developers to build collaborative applications. This month, a total of 32 new features have been introduced.
Among the notable additions, Avatars for meetings stands out as a favorite.
This feature allows users to utilize avatars instead of their real-time camera feed during meetings, providing a much-needed break from being on camera throughout the day. This can be particularly useful during days filled with numerous on-camera meetings. Another significant feature introduced is the Intelligent Meeting Recap, exclusively available for Teams Premium users. Leveraging artificial intelligence (AI), this feature automatically generates a comprehensive overview of meetings. It helps save time by summarizing the key points discussed and facilitating coordination of next steps, ensuring that participants can catch up quickly and efficiently.
The update encourages readers to explore all the newly introduced features and share their thoughts. The author promises to respond to questions and provide further information as needed.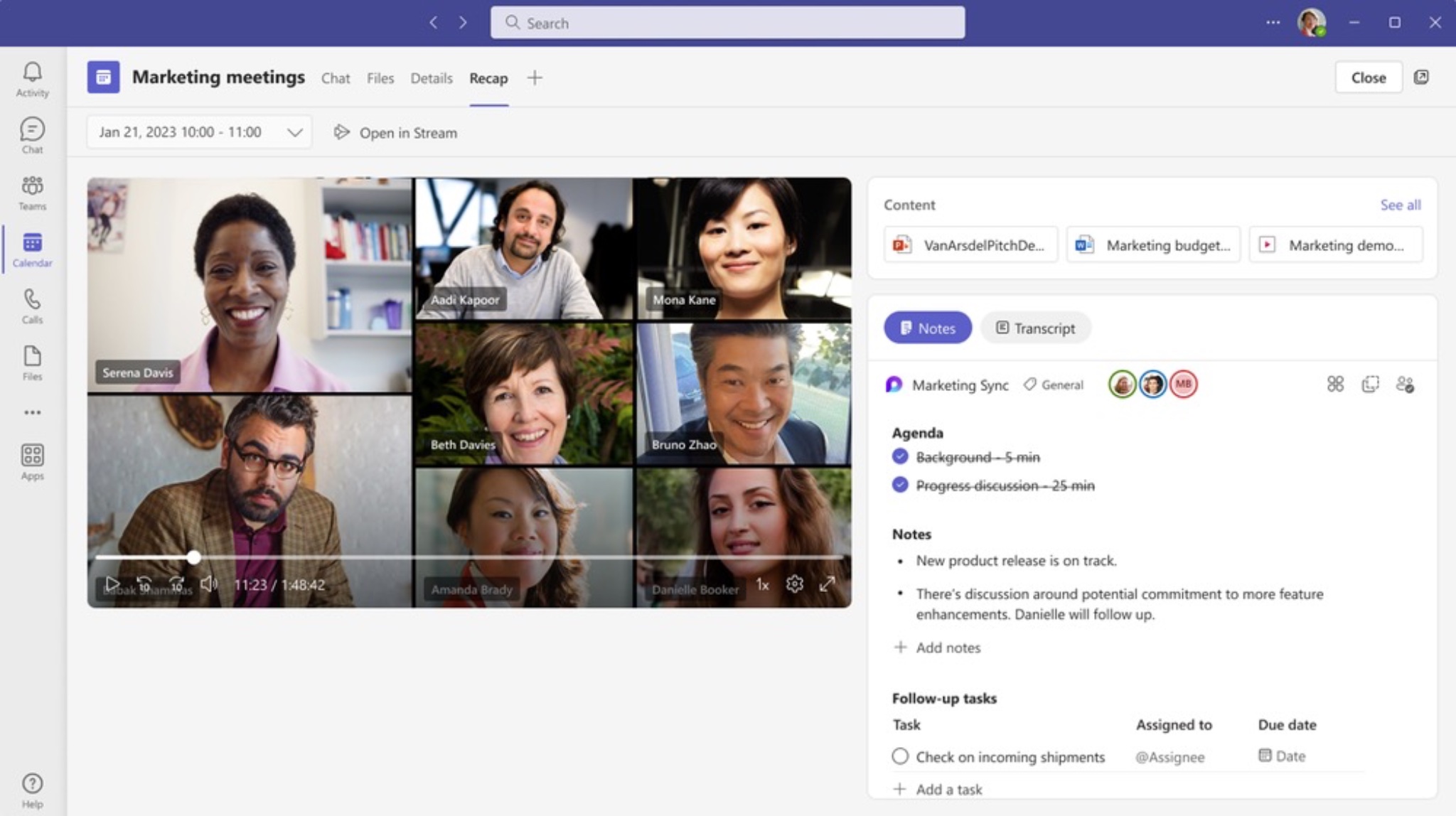 Active Speaker View: This feature tracks the active speaker in meetings, displaying their video at higher resolution for better clarity. This view is particularly beneficial for events with a few key speakers and a large audience.

Profanity Filtering: Teams now allows you to toggle profanity filtering on or off for Live Captions

Support for Breakout Rooms on VDI: Organizers can now enable Breakout Rooms for Virtual Desktop Infrastructure (VDI) users, allowing the main meeting to be divided into smaller, focused sessions

Meeting Recap Experience: The new 'Recap' tab contains the meeting transcript, recording, collaborative meeting notes, and shared content, allowing users to catch up on meeting content directly within Teams

Avatars for Teams: These allow users to represent themselves through customizable avatars and reactions, offering a break from camera use

Teams Phone Updates: Users can now change call queue and auto attendant greetings and announcements. Additionally, compliance recording policies can be maintained when a call is redirected

Expanded Profile Card View: This feature provides richer profile data for Teams users, including contact info, job titles, LinkedIn profiles, and more

Offline Meetings: Users can now schedule offline meetings that do not require online participation

Notes Tab for Channels: A new 'Notes' tab will appear when creating a standard channel in Teams for seamless note collaboration

New Files App Experience: An updated navigation panel simplifies discovery, access, download, and sharing of documents and files in Teams, powered by OneDrive

Tracking and Pausing Automatic Firmware Updates: Admins can track firmware rollouts through the Teams Admin Center and temporarily pause automatic updates. This applies to Teams Rooms on Android and Android-based Teams Phones, Panels, and displays.

Microsoft Teams
Microsoft Teams is a cloud-based collaboration platform that helps teams stay connected with their colleagues. Teams offers a range of features, including messaging, file sharing, online meetings, and more. Teams is available for both desktop and mobile, so users can stay connected wherever they are. Teams also integrates with other Microsoft products like Office, SharePoint, and OneDrive, as well as third-party applications. Teams makes it easy to collaborate with colleagues and stay productive.
What Else Should You Know About Teams?
With Teams, users can easily set up virtual meetings with their colleagues. Teams has a built-in video conferencing feature that allows users to video chat with up to 10 people. Teams also offers a suite of collaboration tools, such as document editing and file sharing, task management, and more. Teams also integrates with other Microsoft products like Office, SharePoint, and OneDrive. It also includes built-in security and compliance features to ensure the safety and privacy of users' data. Teams also has a range of customization options, allowing users to tailor the experience to their needs.
More links on about What's New in Teams | May 2023
May 5, 2023 — Microsoft have announced improvements to the search experience for chats and channels. They include a search pane on the right, a 'Find in ...
May 1, 2023 — It's a new month, which means new features are coming to Microsoft Teams. And according to the company's Microsoft 365 roadmap, several will ...
Apr 11, 2023 — On March 27, 2023, Microsoft rolled out a new version of the Teams desktop app in public preview on Windows (not iOS yet).
Nov 18, 2022 — Teams Premium will begin rolling out February 2023. Availability for new features within Premium are expected to launch in the first half of ...